A former IRS contractor who leaked the tax returns of Donald Trump, Ken Griffin and others and leaked them to the media used a private website.
Charles Littlejohn, 38, who worked for a contractor rumored to be Booz Allen Hamilton (of Edward Snowden fame), stole tax return information on thousands of wealthy Americans, including Trump, Griffin, Elon Musk and Jeff Bezos, and then leaked them to ProPublica.
In a Sunday court filing, his methods were revealed, Bloomberg Tax reports.
To avoid detection, Littlejohn accessed Trump's tax return and other information in late 2018 by querying an IRS database using more "generalized parameters" rather than directly searching for the former president's data, according to the filing. 

He then uploaded the data to a personal, private website he controlled rather than downloading it to a physical storage device or using a remote storage website. That allowed him to "avoid IRS protocols designed to detect and prevent large downloads or uploads" from agency devices or systems, according to the filing, which lays out the factual basis for his guilty plea. 

That day, he used a personal computer to download the data from the private website, storing in multiple locations, including personal data storage devices like his Apple iPod. In May 2019, he contacted the Times about leaking Trump's tax data, disclosing it between August and October of that year. 
Weeks before then-President Trump lost the election to Joe Biden, the NY Times published the first of several stories revealing that Trump paid $750 in taxes between 2016 and 2017, and no taxes in 10 of the previous 15 years.
Trump also lost millions of dollars from his golf courses, "vast write-offs, an audit battle and hundreds of millions in debt coming due" and that Trump earned $73 million abroad.
Combined, Trump initially paid almost $95 million in federal income taxes over the 18 years. He later managed to recoup most of that money, with interest, by applying for and receiving a $72.9 million tax refund, starting in 2010.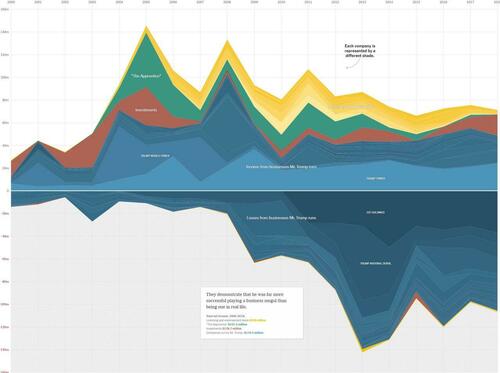 Littlejohn used a similar method to store data he stole on Griffin, Bezos and Musk - with ProPublica reporting that the tax data spanned more than 15 years.
In uploading the data, he used two "virtual machines," or "essentially simulated version of physical computers," the filing said. He "promptly destroyed these machines" after using them to steal the data. 

In September 2020, he contacted ProPublica to discuss the possibility of sharing the data on wealthy taxpayers. He then anonymously mailed the data to ProPublica on a password-protected storage device. 

Two months later, he gave a journalist there the password. ProPublica has published nearly 50 stories based on that data. 

ProPublica reported that billionaires including Bezos and Musk had in some years paid minimal or no income tax even as their fortunes soared. It outlined the tax strategies available to Americans in the top 0.1% of wealth. Michael Bloomberg, majority owner of Bloomberg News parent Bloomberg LP, was among those included in the reporting.
Littlejohn pleaded guilty to a single charge that carries a prison term of up to five years, however he'll likely only face eight to 14 months, according to his plea deal. He will be sentenced on Jan. 29. Trump attorney Alina Habba called the leak an "atrocity" and an "egregious breach," and asked US District Judge Ana Reyes to impose the maximum prison term if the plea deal went forward.
Reyes agreed with Habba that it was "unacceptable" for people to take the law into their own hands, and vowed to impose "severe consequences." (ha).
As Bloomberg notes, "Littlejohn worked as a contractor for the same consulting firm from 2008 to 2010, 2012 to 2013, and 2017 to 2021, according to the filing. The firm wasn't identified."
Looks like Jesse Watters has some idea.
IRS Agent "LittleJohn" & the CIA Involved in Leaking Trumps Taxes via BOOZ ALLEN (A Spy Hub)

An old college newsletter shows "LittleJohn" raving about working for Booz Allen Hamilton, one of the largest government contractors in the US— a company everybody knows hires spies.… pic.twitter.com/Vrrl08Clzx

— UltraMJTruth (@MJTruthUltra) October 8, 2023