Lawmakers will return to Capitol Hill this week with only a few days to avert a government shutdown.
Under current congressional funding authorizations, the government is set to go into a shutdown on Nov. 17. When lawmakers return to the Capitol on Nov. 13, they'll only have four days until this deadline.
Every year, Congress needs to pass appropriations for twelve different sectors of the federal government. Failure to do so before the funding deadline leads to a partial or complete government shutdown, during which only federal services deemed essential remain functioning. Most federal employees are furloughed during a shutdown, and nobody—including members of the military—receives pay during this period.
Historically, government funding has been dealt with through major, usually thousand-page packages dubbed "omnibus" bills, a collection of most or all required spending legislation in a single bill. But many Republicans found this status quo unacceptable and have demanded that Congress instead pass each of the twelve spending bills on their own, a process they say is more transparent but also one which makes it harder to pass funding. The initial deadline to fund the government was at the end of September.
However, in an act that cost him the speaker's gavel, then-House Speaker Kevin McCarthy (R-Calif.) put a continuing resolution (CR) on the floor, a stopgap spending bill that keeps the government open. This bill, which kept the government funded for 45 more days, passed largely due to Democrats' support.
Just days later, on Oct. 3, Rep. Matt Gates (R-Fla.)—a longtime critic of Mr. McCarthy—put an ultimately successful measure on the floor to vacate Mr. McCarthy's speakership.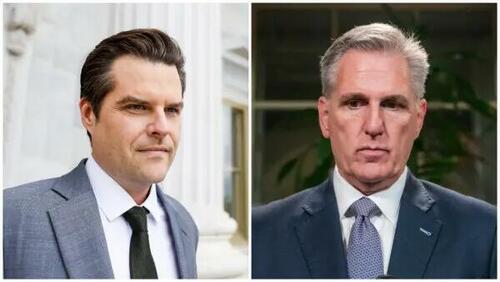 Since then, the House remained largely paralyzed as Republicans sought a new speaker they could agree on, going through three unsuccessful nominations before landing on Rep. Mike Johnson (R-La.) as their pick to lead the House.
When he was elected on Oct. 25, Mr. Johnson inherited a House with only a few weeks to pass funding, a herculean task for a speaker still learning the ropes of leadership.
In this context, Mr. Johnson has been candid that the House may need to pass another CR, though he's floated an untraditional idea on how to go about this.
Where Funding Stands
In order to fund the government, the House and Senate need to agree on the text of each of the twelve required spending bills.
So far, each chamber has passed some of the required spending bills.
The Republican-led House under Mr. McCarthy and Mr. Johnson has passed seven of the twelve required bills, including funding for the Pentagon, Energy and Water, the Department of Homeland Security, the Department of the Interior and environmental agencies, the legislative branch, military construction projects, the Department of Veteran's Affairs (VA), and the State Department and U.S. foreign operations.
Last week, House leadership was forced to pull two funding bills from the floor due to a lack of required votes, including funding for financial services and funding for the Department of Transportation and the Department of Housing and Urban Development.
The Democrat-led Senate, meanwhile, has passed three appropriations bills in a single package, dubbed a "minibus." Senate-passed spending bills include funding for agriculture, military construction and VA, and the Department of Transportation, and the Department of Housing and Urban Development.
However, none of the House or Senate-passed bills have yet gone to conference, meaning that, so far, not a single bill has made it to President Joe Biden's desk.
And finding agreement between the two chambers on funding may be easier said than done. House Republicans hope to use the funding battle as a means of winning concessions on controversial issues from Democrats, and will likely demand at least some concessions that will be hard for Democrats to swallow in order to agree to a spending bill from the Senate.
Thus, Congress functionally remains at square one on funding the government a month and a half after the original deadline.
With so much to do, it's all but certain that Congress will need to pass a CR, or the government will go into a shutdown.
A 'Laddered' CR
Recognizing that much of his caucus will balk at a traditional "clean" CR, a stopgap bill that simply rolls over previous funding levels for a set amount of time, Mr. Johnson has instead proposed what he's dubbed a "laddered" CR.
Under his newly-introduced plan, Congress would pass two CRs: one extending some government funding until Jan. 19, and another extending funding until Feb. 2.
In contrast to a traditional CR, which extends all government funding in a single package, Mr. Johnson's laddered CR proposal would provide extensions for individual government sectors.
"This two-step continuing resolution is a necessary bill to place House Republicans in the best position to fight for conservative victories," Mr. Johnson said in a statement.
"The bill will stop the absurd holiday-season omnibus tradition of massive, loaded-up spending bills introduced right before the Christmas recess," he continued.
Such a method for extending government funding will likely be more amenable to some conservatives, but would also still likely need the support of Democrats to pass.
Democrats and Republicans alike have indicated they'd support such a proposal, but don't necessarily consider it the best course of action.
Rep. Mario Diaz-Balart (R-Fla.) demurred from predicting whether this would be the route Mr. Johnson took.
"That's a speaker's call," Mr. Diaz-Balart told The Epoch Times.
He indicated that he would support such a move, but said he didn't see the benefit to breaking up the CR that way.
"You know, if you ask me, does that ladder thing have any real benefits? I would probably argue that I don't see them," Mr. Diaz-Balart said.
He added, "I think 99 percent of the people here, Republicans, understand that shutdown is really, really damaging to the country, to our national security. It wastes an amazing amount of money. And it gives you no leverage, right. But so so and we needed short-term CR we'll see how we go on to handle that."
Rep. Mike Garcia (R-Calif.) agreed, telling reporters that, while he would support a laddered CR if it came to the floor, "I don't know if it's the wisest move."
Likewise, Rep. Thomas Massie (R-Ky.) didn't comment on whether he thought Mr. Johnson would go with a laddered CR but said that if he does, it should expire sometime early next year.
The real test for this plan will be in the Senate, where Democrats hold a thin majority. However, it seems from public comments that such a scheme could win the support of the upper chamber.
While he didn't seem super enthusiastic about the prospect, Sen. Chris Murphy (D-Conn.) during an appearance on "Meet the Press," said, "I'm willing to listen."
Still, he opined that Congress shouldn't be passing multiple CRs.
"That's no way to run a railroad," Mr. Murphy said.
"I don't like this 'laddered' CR, it looks gimmicky to me," he continued but added that he was "open" to considering whatever the House sent over. "I don't like what the House is talking about, but I'm willing to listen."
Now that Mr. Johnson has committed to taking this approach, lawmakers can expect votes on the two stopgaps in the coming days.
via zerohedge